プロフィール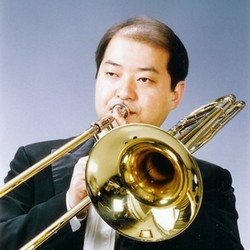 Kyoichiro Kori
Trombone player
Born in Fukuoka in February 1968, Kyoichiro Kori started playing the piano at the age of 3, then flute under Naoko Kirihara at the age of 10 when he moved to Miyazaki. He was 12 when he took up the trombone and went on to study at Toho Gakuen High School of Music and graduated Toho Gakuen School of Music, Later, after completing his studies at the Jazz Department of Musashino School of Music with Honors, he went to France for further studies under Yves Demarle. He has studied under Shigeki Ide, Sumio Miwa, Hiroyuki Odagiri and Satoshi Kamiya as well as Tokyo Trombone Quartet, Hosei Soken, Hidehiko Fukuda and Kenji Tamiya for chamber music. He studied jazz under Shigeharu Mukai and Michio Kagiwada as well as taking part in numerous master classes with such people as I.Bousfield and B.Slokar. He also studied conducting under late Morihiro Okabe and Nanao Yamamoto.
Joining the Siena Wind Orchestra in 1991, he was the acclaimed soloist in concerto under the baton of Yutaka Sado. As the representative of the members of the orchestra from 1996 to 2005, Kori was personally engaged in developing the orchestra. Currently he doubles as the orchestra auditor.
He was the winner at the 1st Japanese Trombone Competition in the Quartet Category. being awarded the Japan Academic Society of Wind Music Prize. Kori was a guest artist at the Trombone Festival, where he has been a speaker as well as the chairman of the organizing committee. A member of Siena Brass and Musica Mundana Trombone Trombone Ensemble. Founder of Trombone Ensemble Colin. Numerous TV, CD and DVD appearances. Kori performs as soloist in various wind orchestras and brass bands, plays extensively with Japan New Philharmonic Orchestra. He has appeared with almost all the orchestras in Japan and many abroad including Deustscher Oper Berlin, Capella Cracovienses, Russian Hermitage Orchestra, Czech Prague Orchestra, St. Petersburg Philharmonic Orchestra, The Leningrad State Orchestra on their Japanese tour.
He is a regular member of the jury at competitions and a keen writer. Some of the trombone textbooks he has written have been published by Yamaha Music Media. He is a devoted pedagogue, with many of his pupils winning competitions.
He is performing extensively in studio recording and live sessions of jazz, playing with such renowned artists such as Eiji Kitamura, Fumio Karashima, Tomonao Hara, Bill Watrous, Richie Cole and Bobby Shew.
Kori is currently teaching at Showa Academia Musicae, Kunitachi Music Academy, Music School Da Capo. He was a board member of the Foundation for the Promotion of Chofu City's Culture & Community and now is a director of Japanese Association of Trombonists.